Okay – here's an update that covers August / September and this weekend! We think we may have posted some of these pics before . . . oops!
Got stuck in with the grinder and got rid of all the tiny rust bubbles – the front was the worst! KOH has measles.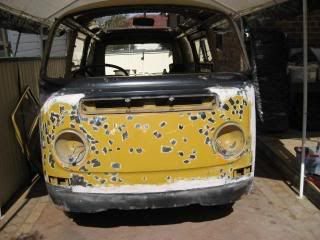 Verity's bogging! Anyone want an apprentice . . . NOT!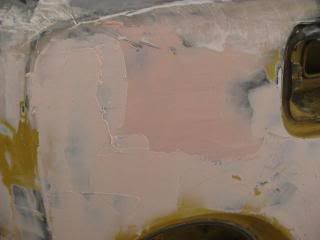 Megan's bogging. It really is bog, not icing. Note: she owes Ian one since she didn't sand it off.
Niamh after a hard day's sugar soaping. Looks like the spare tyre will have to go elsewhere now.
Measles clearing – calamine lotion applied.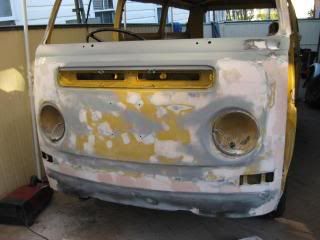 Measles cleared. Coat of primer applied from spray can to stop rust coming back.
Nathan got into grinding /sanding the doors and back panel. Original bog appeared. Someone had side swiped her in the past which is originally what we thought.
---
Pop top proved to be a trickier job than we'd anticipated. Thought bog was bad enough but fibre glass repair stuff sets so hard. Nightmare to sand off without removing even more gelcoat. Verity gave up. Put pop top in too hard basket for the moment, but it makes a great work bench.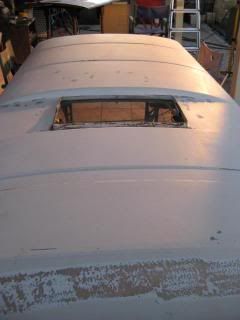 Roof sanded back to metal and then primed. Phew, no holes.
Ian starts to spray on primer. PPG Industries are now a major sponsor of the KOH, supplying all the paint. What champions.
More measles. Seems M and V's bogging and sanding wasn't quite up to scratch. And don't even get the spray painter started on our efforts. But then he's a perfectionist.
---
How to fill up a hole – mix bog with fibre glass strands and you are left asking "Hole? What hole?"!
October Friday 2nd October
KOH is about to go PURPLE! Primer is all done and Meg, Verity, Nathan and Ian are pretty happy coz they are completely over the sanding part! We know each and every bit of KOH intimately.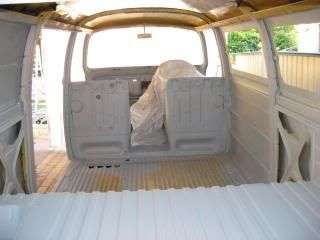 She started first go in the driveway after months of sitting idle. She must be keen to have a change of scenery and colour.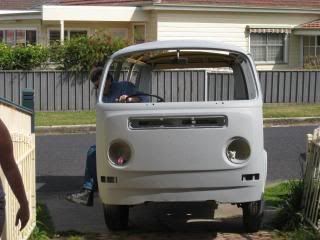 Doors will go later. Still a few last minute bits of sanding and bogging to do, especially where a plant pot threw itself at the back left corner just before KOH left the driveway . . . aaaagh.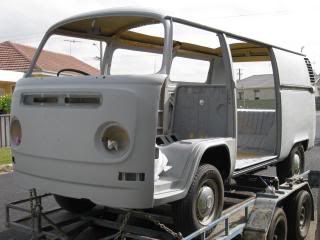 Off she goes . . .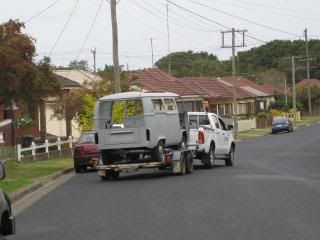 She's already taking on the big boys . . .
It was a rush to get her inside before the rain hit. She's as grey as the sky but tomorrow she will be PURPLE. Imagine – purple rain would have been cool.
Safe and sound in the spray booth. Big thank you to Tony of Race Art (Maitland) for the loan of the booth and all his equipment (especially over a long weekend).
Now, which colour shall we choose???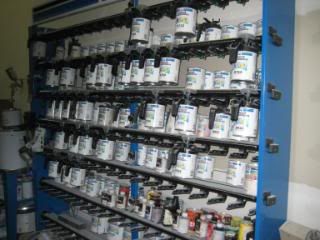 Oh, Cadbury purple seems fitting considering Megan's love of chocolate! Here's Peter, our wonderful spray painter. Nice outfit Pete!
Kasper the Kombi – getting ready for a ghostly Halloween. Kids thought KOH should be called Tinky Winky off the Tellytubbies. The jury is still out on that one!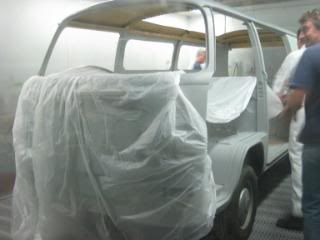 And on goes the white on the top half.
Ooooh, she's all SHINY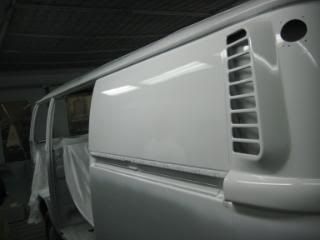 Some celebratory cupcakes. Megan makes the BEST cupcakes in the world. See, she's expert at icing, but not bogging. But then it turns out, none of us were! But we put a lot of heart into it.
Saturday 3rd October
KOH went up to Maitland to get sprayed purple and we twiddled our thumbs whilst our baby got purplefied. So Nathan and Ian finished off the doors and designed a new age wind chime out of the bumpers and front grill.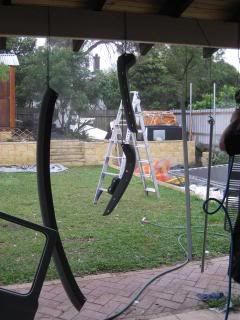 Sunday 4th October
It took 3 cars, one rope and a lot of ingenuity to get the doors up to Maitland this morning. We were all impatient to get up there to see a purple KOH. Daylight savings NOT appreciated.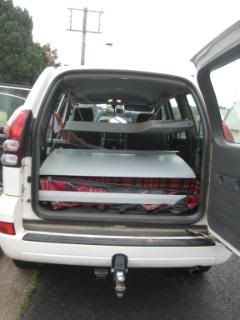 And this is what waited for us . . . so good to say goodbye to the mustard orange and say HELLOOOOO to purple and white. The photos don't do her justice. We had a moment to pinch ourselves to make sure it was all REAL, she was PURPLE, she was SHINY, she had come so far since May 2008 as an ebay bargain.
She really is shiny Cadbury purple. Like a mirror.
The hard workers! Grins from ear to ear.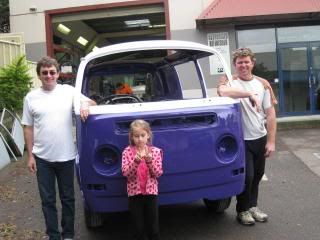 We were told to take the dashboard out which was done rather hastily. Anyone for spaghetti on toast? Ian had to reconnect this mess to start her up to get her back on the trailer.
A few hiccups getting her started – please don't let this be an omen.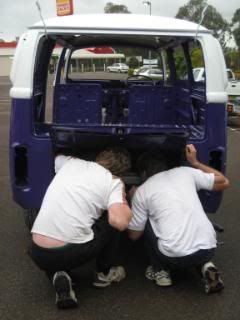 Success!
On her way back home for the start of the refit.
No messing about . . . headlights back in with a mixture of the originals and two donated to us by Rocky. Ian and Nathan had a competition to see who could get their headlight installed first – getting them lined up proved a challenge.
And they actually worked first time!
The work never ends. We've only been home an hour or so and back to the sanding. This time the dashboard. But we are all on a purple high … who cares? Not Megan and Verity– we are busy writing this thread!
Bootiful. Think we might leave it as a "rat dash". We quite like it just clear coated.
Verity and Ian's house still looks like a bomb site, front and back. Pool still not in. Megan and Nathan too embarrassed to post a photo of their long winded renovation. BUT putting up with the mess has all been worth it. KOH is better than we ever dreamed of.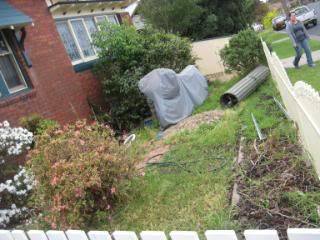 So now we have to refit her with the list of goodies we ordered from Roy at The Bus Stop. Get all the sponsor logos (we have a few new ones) and signage applied by Formation Signs. New tyres from Bob Jane T-Marts Newcastle West. Spray the rims. New logoed t-shirts by Frame Promotions. Install windows. Mechanical check by Penfolds Automotives. Electrical check by Newcastle Auto Electrics. And the list goes on and on and on all the way to the blue slip (see we forgot the dreaded pop top). And then on and on and on to Relay For Life launch on Saturday 7th November. And then off on her KOH journey into the future . . . thanks to ALL our supporters xxx.