Work Begins Again!!!
---
We know we've had a bit of a break but Meg and I needed a break from Cancer Council stuff after the Relay in November and we had to wait a while for some panels to come in. And then there was Christmas and New Year … we hope you all had a merry and happy one and are sticking to those new year's resolutions. Okay – enough of the excuses ….
Thank you to everyone who has continued to PM us in support and raise money through some great fundraisers. A special thank you to Kysteve for stumping up a $100 voucher from The Bus Stop as a Melbourne Cup sweepstake prize and for Hels for donating it to us when she won it. A huge thank you to GoblinSA for her decal fundraiser and to Grantus for his door lighting one. And thanks to all of you who bought a t-shirt. Every little bit helps. We've been spending the dollars on new panels from Roy (thanks heaps – they arrived in great condition to much excitement!)
So at the end of November, Ian and I decided one morning to get stuck into the underneath …. so up on to some ramps. Took a few goes, much swearing and some retaining wall blocks to keep everything in place.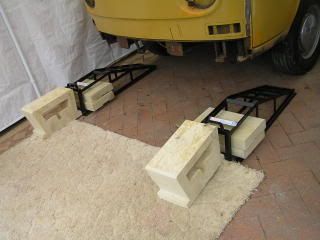 This is what we found ….
---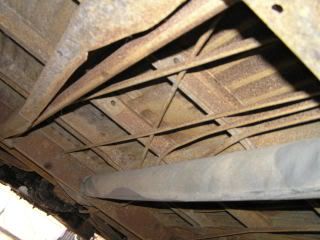 It was a disgusting, dirty, hot, sweaty, rusty, stomach muscle punishing job …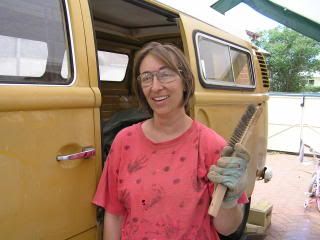 Then we washed it all off with gurney and left it to dry ….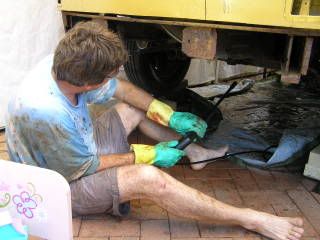 ….. and that was the end of it until after Xmas.
So last week we bunged on the rust converter and got it ready for painting. Forgot to take photos.
Then it was time to teach me about the front brakes. It was a steep learning curve – socket sets, brake fluid, brake pads, front disks, calipers, master cylinder – whole new language.
So here is the brakes before we started the clean up, taking apart and redoing …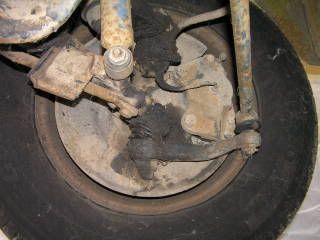 Custard wanted to help too!
Left front brake caliper removed – seemed to be seized up completely
Used compressed air pump to get caliper piston out of casing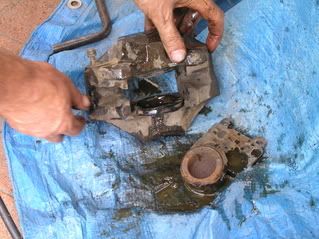 Brake master cylinder and vacuum – removed to be cleaned up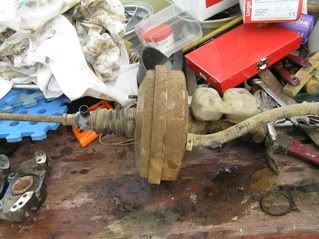 Front outer bearing with metal filings – made a wonderful grinding noise! New bearings on shopping list.
Getting well acquainted with grease and dirt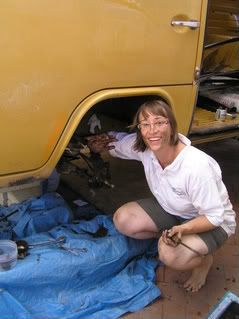 So at the end of the day, both front brakes were off. Sent front disk hubs off for machining. All grease and dirt cleaned off.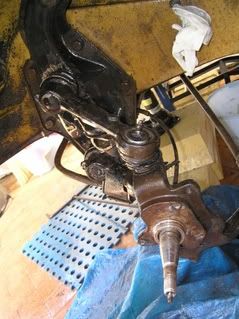 Excitement. Nathan's father-in-law arrives with mig welder!!!!! Time to weld on some front panels.
Nathan under cover!
Welding in the new bit under the front step – whatever that may be called!
Megan having a go ….. got freaked out by the sweaty helmet!!!
Took door off and found more rust needing to be repaired
The other pictures are on the camera still – will add more tomorrow of the bottom panels welded in place – woo hoo 
Bonnie Hills here we come and WATCH OUT CANCER – a cure is on the way
Time to get some serious welding done – on with lower inner front panel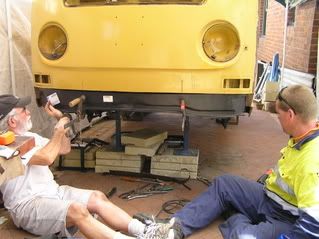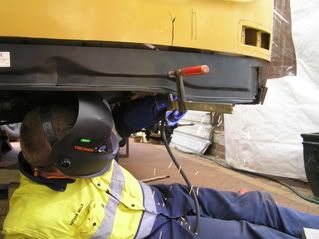 Then time to line up the lower outer front panel in preparation for cutting off the excess. Fingers crossed we measured it all up correctly …..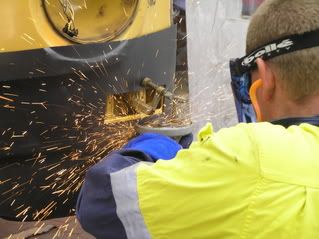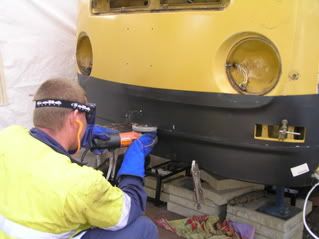 Perfect job!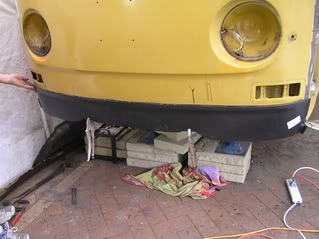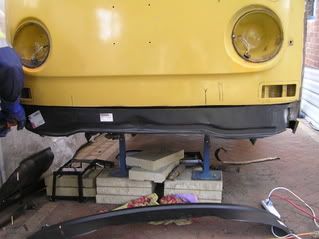 Kombi of Hope is beginning to look like a kombi again!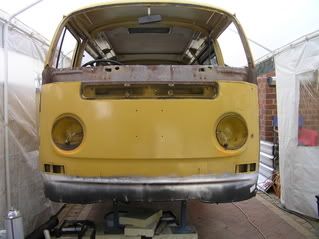 And that was it for the welding for the day – Nathan and his Dad Ken rock! Next job is to fix up the windscreen part.
Meanwhile Ian got busy with the front brake resto
Machined disks and replaced pads and seals.
New master brake cyclinder and repainted vaccuum chamber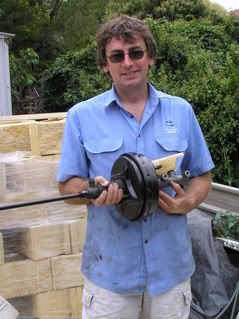 Just need to buy some new bearings and front brakes can be put back together.
Custard and Ollie had a ball whilst all this was going on – we'll be able to judge our progress on KOH by how quickly these two trouble makers grow!!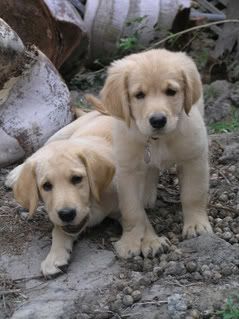 And that's all for now. Another day planned for next week. More welding, do front brakes. Kelly and Celia are back on Wednesday – might have sandpaper handy
Ian finished off the front brakes whilst I was away communing with nature up in Bellingen last week. I'd already cleaned off all the grease and crap from under the wheel arches, so he applied rust treatment and sprayed it all shiny black.
From this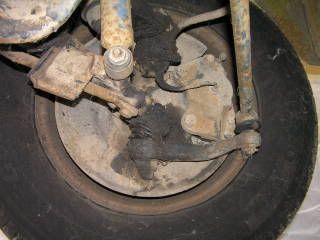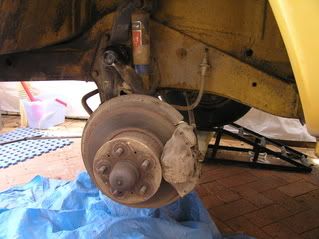 To this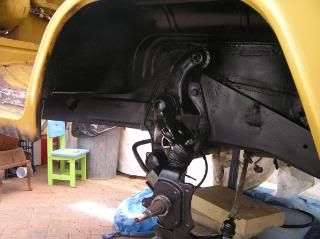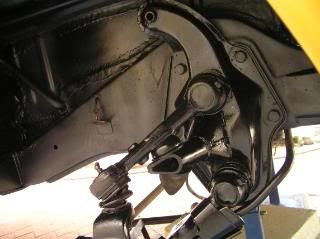 Front brakes reassembled today and wheels back on – one job FINISHED. He's a champion.
He also got stuck into the underneath whilst away and finished off the job we started before Christmas!!
From this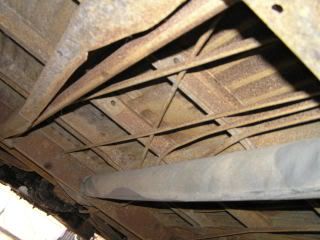 To this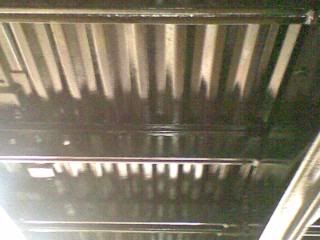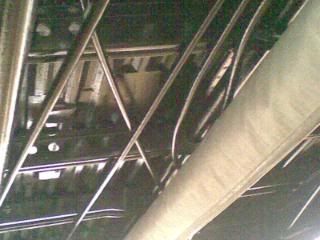 The photos don't really do the transformation justice since our camera died and we had to use mobile phone instead.
Today we dismantled the back brakes – just as crappy a job as the front ones! Need new pads, brakes cylinders, hoses – good job Perry at Penfolds generously donated them. He's a superstar.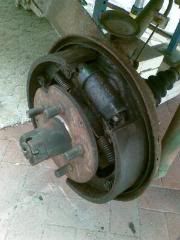 Verity spent the afternoon cleaning off the grease and dirt – she must love this kombi coz it's a shite job. Photos still on mobile phone of finished product. Wire brushing, rust treatment and shiny new paint to follow ….. woo hoo.
Ian, meanwhile got stuck into the engine bay and by the end of the day had a pile of bits on the ground – alternator, tin ware, exhaust, distributor, and hundreds of nuts and bolts.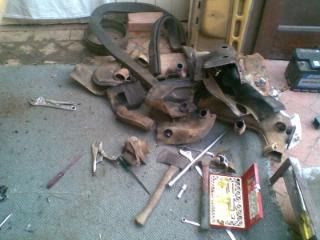 As usual, Verity has been defeated by PhotoBucket and apologises for photos being upside down and rotated.
Verity wasn't there to hear but I'm sure there was heaps of swearing happening . . . everything was seized up after years of neglect.
Plan is to clean up engine bay and tinware, paint inside, fix battery tray, and redo alternator. Decided it wasn't worth the effort to take out engine coz it seems to be running fine . . .
Driver's side heat exchanger appears stuffed – anyone got a spare one handy or can they be fixed where the exhaust pipes enter the exchange unit?
Wish she was ready to drive to Nimbin but Bonnie Hills it will have to be!