It's been a manic month but we managed to get the Kombi of Hope to the Relay For Life on 7th November – not registered, on a trailer, but she was there and looked the part. So proud! But we'll leave those photos till last . . .
Before the Relay, there were two mad weekends. The first one was very frustrating as we kept coming across problems – not much was achieved and we were all a bit despondent. The boys managed to get the sliding door back on after much fiddling and adjustment.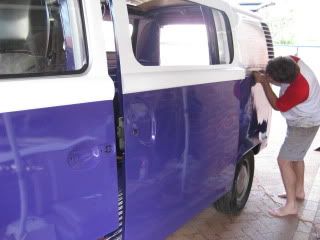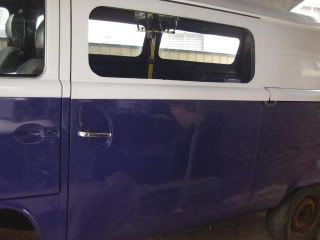 This little strip caused hours of fiddling, bashing, glueing, WD40ing, swearing, grinding, comparing to the old piece, searching for clues on KC . . . but we got it on eventually. We weren't going to let one little strip of metal defeat us.
 The back tail gate went back on.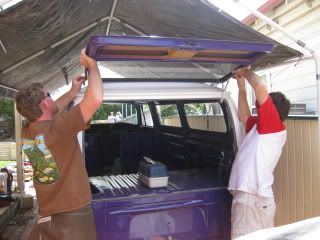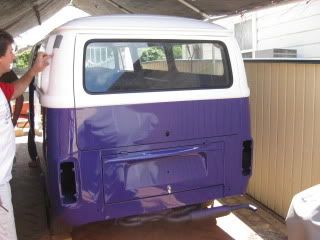 Megan and Verity made one trip to Spotlight to buy the vinyl for the door cards. Then we went back again to buy some felt. And then Verity made several trips to various hardware stores looking for staples that would fit the staple gun. Finally Verity found some but they wouldn't staple into the $%@*&ing door cards. So much fro Rev's sticky on how to cover a door card LOL
So we used GLUE! Horrible, sticky, tacky, sticks to everything glue.
Door card covered with felt
 Glued edges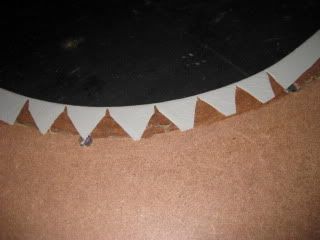 Finished product – in a silvery grey colour. We thought white would get dirty too quickly and we couldn't get purple vinyl.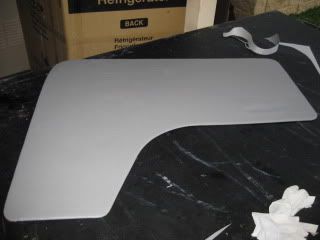 We only managed to get one door card finished that weekend.
In the last weekend before Relay we spent the whole Saturday and Sunday madly trying to finish her off so she could go down the coast to the sign writers.
Nathan fitted the speakers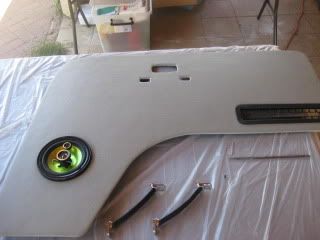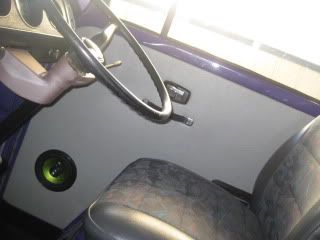 Finished off the rest of the door cards but only managed to fit the ones to the side doors.
 Ian spent many frustrating hours wiring in the stereo (thanks Greenbay77) and getting all the electrics working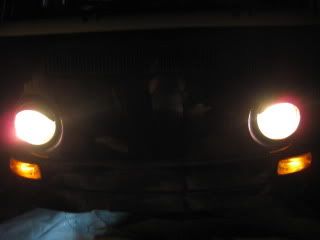 The new seats we got from Dena went in – very flash.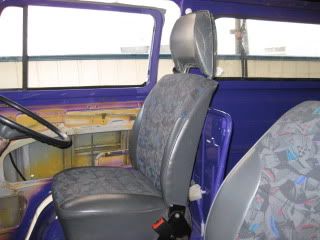 The rims were scrubbed, sanded and sprayed silver in anticipation of the new white wall tyres donated by Bob Jane T-Marts from Newcastle West. Thanks Ken.
From this
To this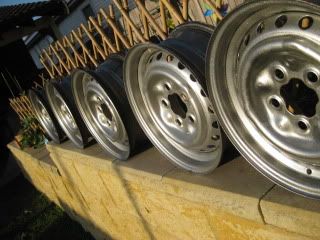 Sliding door window went in – almost gave up. We had a windscreen bloke do the others so didn't realize what a frustrating job it was.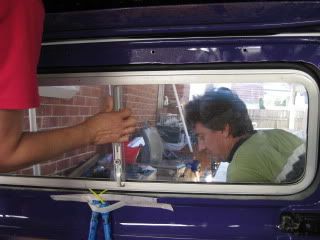 Thought the bogging was over once we had her sprayed but no . . . had to patch up the back bumper coz we never managed to find a replacement, very rare apparently.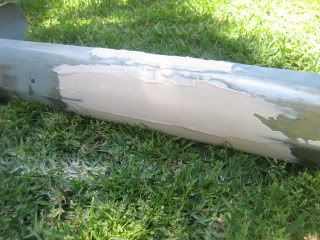 Last job for the weekend – finishing off the pop top. No time to get it to a spray booth so we just got on with it in the back garden and rigged up a shelter for KOH with Verity's sheets.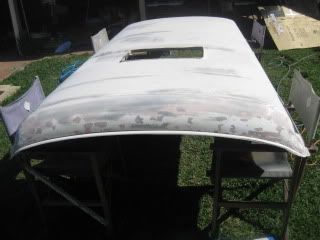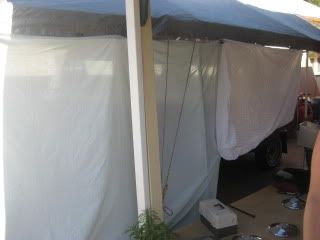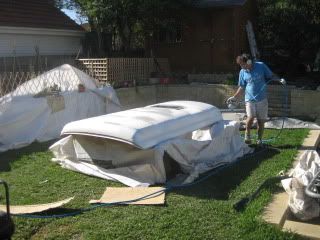 Finished – lovely job Ian.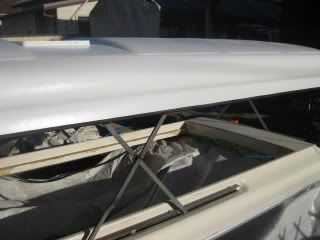 It was dark by the time we were ready to put the pop top back on.
Add a few finishing touches
Front bumper and the all important VW badge!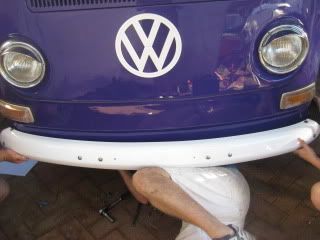 So we all went to bed very tired, very sore but VERY happy. The next day we took her on a trailer down to Formation Signs on the Central Coast to get the stickers put on. We waited every impatiently to be able to pick her up on Friday but it was worth every minute of the wait.
On the trailer ready for her trip down the coast.
And this is her all stickered up!!!!!!!! Can't begin to describe the feeling of joy (and relief) after 17 months of hard slog.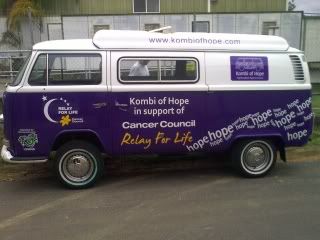 Shannons have sponsored us for a year of insurance and here are the other sponsors across the back . . .
You may not be aware but we got some Newcastle Uni students to design a new logo and we now have some new t-shirts available (with fitted ones for the ladies too!)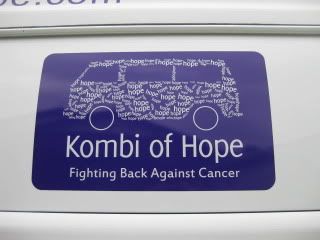 She is off to Penfolds next week for a mechanical tune up, Verity's sister in law is making up a new pop top canvas, Megan's Mum is making some lovely starry curtains and then we'll be off to see if she passes the dreaded blue slip. Keep all your fingers and toes crossed for us.
We had two very special people attend our Relay. Ian Altman (Rev) and his wife Carolyn came all the way from Lithgow to share our weekend. Ian blessed the Kombi of Hope for us, wishing all who travel in her a safe journey and Carolyn spoke at the Opening Ceremony as a survivor.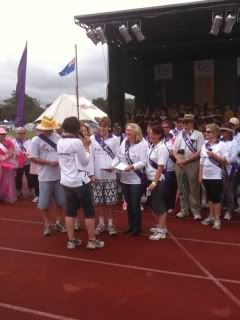 And here is Megan's mum with the gorgous tye dyed shorts she made us to wear with our new t-shirts. Jane is now the offical KOH interior decorator and clothing designer!
Megan will post up some more photos later but for now . . .
We know we've said it before but a big purple
THANKYOU
to everyone for your support and belief . . you all know who you are. We will never forget your support. Many cancer survivors at the Relay For Life came up to us and told us that KOH had put a smile in their hearts and for us that meant that we have achieved our goal.
Looking foward to a Kombi wave with some of you soon.
Well here are a few photos of the Kombi of Hope at Relay For Life. . .
It was a wet weekend but the rain certainly didn't dampen the spirits of everyone who attended and stayed over. There was lots of dancing and singing in the rain over the weekend.
Here she is sitting in the rain but she has her starry lights on . . .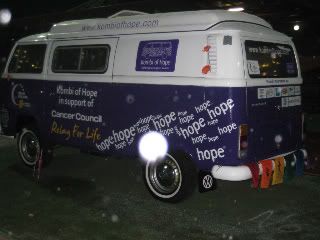 Nathan and Ian won the Spirit of Relay award for all the many hours spent on the Kombi of Hope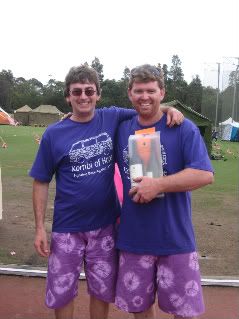 Even the Kombi Fairy came to visit us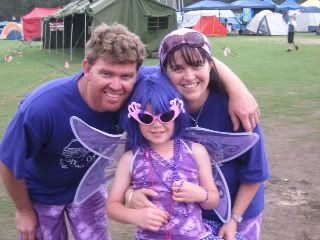 One last picture of Carolyn, Ian and us